Rekonstruksi Makna Tradisi Suroan Bagi Umat Islam di Petilasan Sri Aji Jayabaya Kabupaten Kediri
Keywords:
Suroan, Jayabaya, Islam, Rekonstruksi
Abstract
Suroan is a tradition that is commonly practiced by Javanese people, such as the Suroan tradition in Petilasan Sri Aji Jayabaya, the King of Kediri who is famous for the Jayabaya term. The suroan tradition has been passed down for a long time. The Qur'an is the holy book of Muslims which also talks about tradition, culture, and multiculturalism. This study uses a qualitative research method with a phenomenological approach that will examine the ritual process of one Suro at Petilasan Sri Aji Jayabaya with the approach of the Qur'an as the sacred text of Muslims. The results of the study stated that the suroan tradition is an acculturation of Islamic and Javanese culture. And culture is something that is allowed in the Koran as long as it does not conflict with divine values ​​and monotheism.
References
Abdillah, Junaidi. "Radikalisme Agama: Dekonstruksi Tafsir Ayat-Ayat 'Kekerasan' Dalam Al-Qur'an." Kalam 8, no. 2 (2014): 281–300.
Abi Muhammad al Husaini Baghowi, Ibnu Mas'ud al. Tafsir Baghowi. Riyad: Dar at Toyibah, n.d.
Al Quran. LPMQ Kemeang RI, n.d.
Al-Zamakhshari, Abu AlQasim Mahmoud ibn Omar. Al Kasyfu Min Haqoiq al Tanzil. Beirut: Darul Ma'rifah, 2009.
Amanah Nuris. Agama Jawa; Setengah Abad Pasca Clifford Geertz. Yogyakarta: LKIS, 2018.
As-Showi, Ahmad bin Muhammad. Hasyiah As Sowi. Kediri: Tob'ah Jadidah Munaqohah, n.d.
Ayu Nurul Izayanti. "Agama Dan Budaya Lokal; Studi Tentang Ritual Satu Suro Di Petilasan Sri Aji Jayabaya Kediri." UIN Sunan Ampel Surabaya, 2021.
Berger, Peter L. Langit Suci; Agama Sebagai Realitas Sosial. Jakarta: LP3S, 1991.
Dhofier, Zamakhsari. Tradisi Pesantren. Jakarta: LP3S, 2011.
Fahrudin. "Tasawuf Upaya Tazkiyatun Nafsi Sebagai Jalan Mendekatkan Diri Kepada Tuhan." Jurnal Pendidikan Agama Islam - Ta'lim 12, no. 2 (2014): 127–45.
Gunsu, Rumansah, Dkk. Pengantar Antropologi. Bandar Lampung: Aura Publiser, 2013.
Id, Yatmin Yatminsukorejo@yahoo Co. "Tradisi Ritual 1 (Satu) Syuro Di Petilasan Sri Aji Jayabaya Kediri" 1 (2017): 44–48.
Kharis, Muhammad Abdul. "Islamisasi Jawa : Sayyid Ja'far Shadiq Dan Menara Kudus Sebagai Media Dakwahnya." Jurnal Indo-Islamika 10, no. 1 (2020): 1–14. https://doi.org/10.15408/idi.v10i1.17508.
Mahmud, Al-Zamakhsyari bin Umar. "Tafsir Al-Kasyāf," 2009.
Rifa'i, Taufiqurrohman. "Fikih Pluralisme: Kajian Tentang Multikulturalisme Dalam Perspektif Al-Qur'an." Al'Adalah 23, no. 1 (2020): 22–34.
Rif'i, A Bachrun, and Hasan Mud'is. Filsafat Tasawwuf. Bandung: Pustaka Setia, 2010.
Syaukani, Muhammad bin Ali Ibn asy. Fath al Qadir. Edited by Dar Ma'rifah. Libanon, n.d.
Wawancara dengan Pak Dul, pada tanggal 15 September 2021 (n.d.).
"Website Resmi Pemerintah Kota Kediri." Accessed September 15, 2021. https://www.kedirikota.go.id/p/dalamberita/6351/silsilah-raja-raja-kerajaan-kediri-dan-asal-usulnya.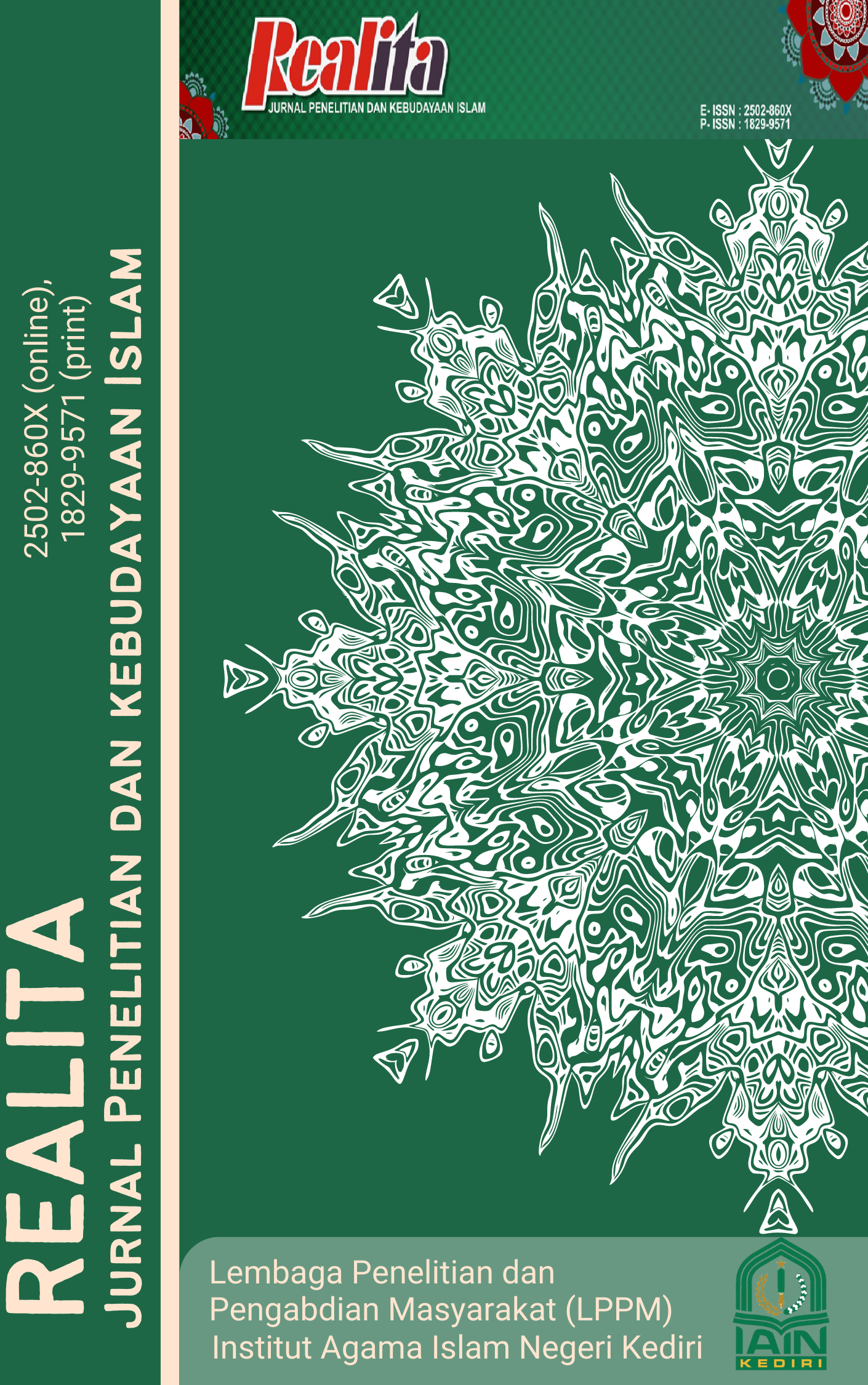 Downloads
How to Cite
Wicaksono, A. K., & Muna, N. (2022). Rekonstruksi Makna Tradisi Suroan Bagi Umat Islam di Petilasan Sri Aji Jayabaya Kabupaten Kediri . Realita: Jurnal Penelitian Dan Kebudayaan Islam, 20(2), 117–128. https://doi.org/10.30762/realita.v20i2.127
License
Copyright (c) 2022 Ammar Kukuh Wicaksono, Nailal Muna
This work is licensed under a Creative Commons Attribution-ShareAlike 4.0 International License.