Peran Pendidikan Agama Islam dalam Memperkuat Moderasi Beragama di Indonesia
Keywords:
Pendidikan Agama Islam, Moderasi Beragama, Indonesia
Abstract
Moderasi beragama sebagai program pemerintah Indonesia berupaya memantapkan komitmen kebangsaan, toleransi, anti kekerasan dan akmodatif terhadap kebudayaan lokal. Program ini dinilai masih baru yang perlu pengembangan dan penguatan. Artikel ini bertujuan untuk memotret peran pendidikan agama Islam dalam memperkuat moderasi beragama tersebut. Penelitian ini dimulai dari mengungkap konsepsi moderatisme Islam dan tantangan implementasinya di Indonesia, kemudian didiskusikan dengan pendidikan agama Islam yang dinilai dapat memainkan peran dalam mempromosikan moderasi beragama menuju hidup berdampingan secara damai di negara ini. Penelitian ini menggunakan metode penelitian kualitatif dengan pendekatan naratif. Adapun jenis pengumpulan data dilakukan secara kepustakaan dengan membaca buku, jurnal, dan sumber lain yang diyakini kebenarannya. Data yang telah terkumpul tersebut dianalisis dan diinterpretasi hingga sampai pada tujuan-tujuan penelitian. Artikel ini diharapkan dapat memberikan wawasan tentang potensi pendidikan agama Islam untuk menumbuhkan pemahaman Islam yang moderat dan inklusif di Indonesia. Melalui penelitian yang telah dilakukan, dapat disimpulkan bahwa Pendidikan Islam merupakan bagian penting dalam penguatan moderasi beragama di Indonesia namun perlu didukung oleh pendekatan yang komprehensif seperti mengedepankan pemikiran kritis, mengahargai pluralitas dan pluralisme, serta menghormati keragaman untuk menumbuhkan budaya moderasi beragama di Indonesia.
References
Abidin, Achmad Anwar, and Muhammad Ali Murtadlo. 2020. "Curriculum Development of Multicultural-Based Islamic Education As an Effort To Weaver Religious Moderation Values in Indonesia." International Journal of Islamic Education, Research and Multiculturalism (IJIERM) 2 (1). journal.yaspim.org: 29–46. doi:10.47006/ijierm.v2i1.30.
Al Qurtuby, Sumanto. 2020. "The Rise of Islamism and the Future of Indonesian Islam." Journal of International Studies(Malaysia) 16 (December): 105–28. doi:10.32890/jis2020.16.7.
Allès, Delphine, and Amanda Tho Seeth. 2021. "From Consumption to Production: The Extroversion of Indonesian Islamic Education." TRaNS: Trans-Regional and -National Studies of Southeast Asia 9 (2): 145–61. doi:10.1017/trn.2021.6.
AR, Samsul. 2020. "Peran Guru Agama Dalam Menanamkan Moderasi Beragama." Al-Irfan : Journal of Arabic Literature and Islamic Studies 3 (1): 37–51. doi:10.36835/al-irfan.v3i1.3715.
Arifinsyah, Arifinsyah, Safria Andy, and Agusman Damanik. 2020. "The Urgency of Religious Moderation in Preventing Radicalism in Indonesia." ESENSIA: Jurnal Ilmu-Ilmu Ushuluddin 21 (1): 91–108. doi:10.14421/esensia.v21i1.2199.
Ayuanita, Kristanti, and Lasmi Febrianingrum. 2019. "Recognizing Islamic Moderation to Millenial Students in University." Proceedingsofthe 3rdInternational Conference on Islamic Studies (ICONIS). conference.iainmadura.ac.id. https://conference.iainmadura.ac.id/index.php/iconis/article/view/32.
Fiantika, Feny. 2022. Metodologi Penelitian Kualitatif. In Metodologi Penelitian Kualitatif. Rake Sarasin. Jakarta. https://scholar.google.com/citations?user=O-B3eJYAAAAJ&hl=en.
Haq, V A, and A R Ma. 2022. "Literature in Islam and Its Role Strengthening Nationalism." In 1st Nusantara Raya International Conference. proceedings.uinsaizu.ac.id. https://proceedings.uinsaizu.ac.id/index.php/nuraicon/article/view/165.
Harmi, Hendra. 2022a. "Analisis Kesiapan Program Moderasi Beragama Di Lingkungan Sekolah/madrasah." JPGI (Jurnal Penelitian Guru Indonesia) 7 (1): 89. doi:10.29210/021748jpgi0005.
———. 2022b. "Model Pembelajaran Pendidikan Agama Islam Berbasis Moderasi Beragama." JRTI (Jurnal Riset Tindakan Indonesia) 7 (2). jurnal.iicet.org: 228. doi:10.29210/30031757000.
Hidayat, Moch Charis. 2019. "The Clash Of Ideology Muhammadiyah (Moderate Versus Radical Ideology Fight)." Afkaruna 15 (2). doi:10.18196/aiijis.2019.0108.328-333.
Huda, Alamul. 2010. "Epistemologi Gerakan Liberalis, Fundamentalis, Dan Moderat Islam Di Era Modern." De Jure: Jurnal Hukum Dan Syar'iah 2 (2). doi:10.18860/j-fsh.v2i2.2977.
Husna, Ulfatul, and Muhammad Thohir. 2020. "Religious Moderation as a New Approach to Learning Islamic Religious Education in Schools." Nadwa: Jurnal Pendidikan Islam 14 (1). repository.uinsby.ac.id: 199–222. doi:10.21580/nw.2020.14.1.5766.
Ikhwan, M. 2020. " Sharī'ah in the Public Sphere: The Discourse and Practices of Islamic Law and Inter-Religious Tolerance and Harmony." Ulumuddin: Journal of Islamic Legal Studies 1 (2): 1-23. 10.22219/ulumuddin.v1i2.13141.
Ikhwan, M. 2020. "Tokoh Lintas Agama Merawat Kerukunan Umat (Belajar Multikultural Dari Kota Malang)." Palita: Journal of Social Religion Research 5 (2): 113–34. doi:10.24256/pal.v5i2.1503.
Lestari, Julita. 2020. "PLURALISME AGAMA DI INDONESIA (Tantangan Dan Peluang Bagi Keutuhan Bangsa)." Wahana Akademika: Jurnal Studi Islam Dan Sosial 6 (1): 1. doi:10.21580/wa.v6i1.4913.
Masaaki, Okamoto. 2020. "Anatomy of the Islam Nusantara Program and the Necessity for a 'Critical' Islam Nusantara Study." ISLAM NUSANTARA: Journal for Study of Islamic History and Culture 1 (1): 13–40. doi:10.47776/islamnusantara.v1i1.44.
Mujahid, Imam. 2021. "Islamic Orthodoxy-Based Character Education: Creating Moderate Muslim in a Modern Pesantren in Indonesia." Indonesian Journal of Islam and Muslim Societies 11 (2): 185–212. doi:10.18326/ijims.v11i2.185-212.
Mukramin, Sam'un, and Alfiani Aminah. 2022. "Christian Muslim Moderation Local Wisdom Based." Daengku: Journal of Humanities and Social Sciences Innovation 2 (3): 345–52. doi:10.35877/454ri.daengku929.
Munawar-Rahman, B. 2010. "Membela Kebebasan Beragama: Percakapan Tentang Sekularisme, Liberalisme, Dan Pluralisme." Jakarta: LSAF and Paramadina.
Rahman, Budhy Munawar. 2019. "MASA DEPAN WAJAH ISLAM INDONESIA Kajian Atas Islam Moderat-Progresif." Nusantara; Journal for Southeast Asian Islamic Studies 15 (1): 10. doi:10.24014/nusantara.v15i1.10610.
Rijali, Ahmad. 2019. Analisis Data Kualitatif. Edited by Tjetjep Rohendi Rohidi. Alhadharah: Jurnal Ilmu Dakwah. Vol. 17. Jakarta: Penerbit Universitas Indonesia. doi:10.18592/alhadharah.v17i33.2374.
Solichin, Moh. Badrus. 2022. "Diskursus Moderasi Dusun Tiga Agama, Buneng: Implementasi Pendidikan Multikultural Siswa SMP." Realita : Jurnal Penelitian Dan Kebudayaan Islam 18 (2). Jakarta. doi:10.30762/realita.v18i2.2536.
Suprapto, Suprapto. 2020. "Integrasi Moderasi Beragama Dalam Pengembangan Kurikulum Pendidikan Agama Islam." EDUKASI: Jurnal Penelitian Pendidikan Agama Dan Keagamaan 18 (3): 355–68. doi:10.32729/edukasi.v18i3.750.
Susilawati, Samsul. 2020. "Muslim Moderat Merespon Arus Modernitas Dalam Bingkai Multikultural." Edumaspul: Jurnal Pendidikan 4 (1): 245–52. doi:10.33487/edumaspul.v4i1.362.
Syam, Firdaus. 2021. "Aktualisasi Islam Keindonesiaan Dalam Konteks NKRI." Himmah: Jurnal Kajian Islam Kontemporer 4 (1). doi:10.47313/jkik.v4i1.1098.
Syarifah, Masykurotus. 2018. "Problematika Pendidikan Islam; Antara Determinisme Historis Dan Realisme Praktis." KABILAH : Journal of Social Community 2 (2): 302–22. doi:10.35127/kbl.v2i2.3139.
Syukron, Buyung. 2017. "The Contextualization of Islamic Education: Reformulation the Essence and Urgency in the Islamic Educators in Information Transformation Era." Jurnal Pendidikan Islam 6 (1): 123. doi:10.14421/jpi.2017.61.123-146.
Widjaja, Gunawan, Sanchita Bhattacharya, Muhammad Anas Ma`arif, and Aslan Aslan. 2022. "Anti-Radicalism Islamic Education Strategy in Islamic Boarding Schools." Jurnal Pendidikan Islam Indonesia 6 (2). scholar.archive.org: 74–85. doi:10.35316/jpii.v6i2.405.
Zarkasyi, Hamid Fahmy. 2019. "Appraising the Moderation Indonesian Muslims with Special Reference to Muhammadiyah and Nahdlatul Ulama." Addin 12 (1). repo.unida.gontor.ac.id: 1. doi:10.21043/addin.v12i1.4179.
ZTF, Pradana Boy. 2021. "Jalan Moderasi Pemikiran Hukum Islam Muhammadiyah (Analisis Atas 'Risalah Akhlak Islami Filosofis' Majelis Tarjih)." Maarif 16 (1): 42–59. doi:10.47651/mrf.v16i1.133.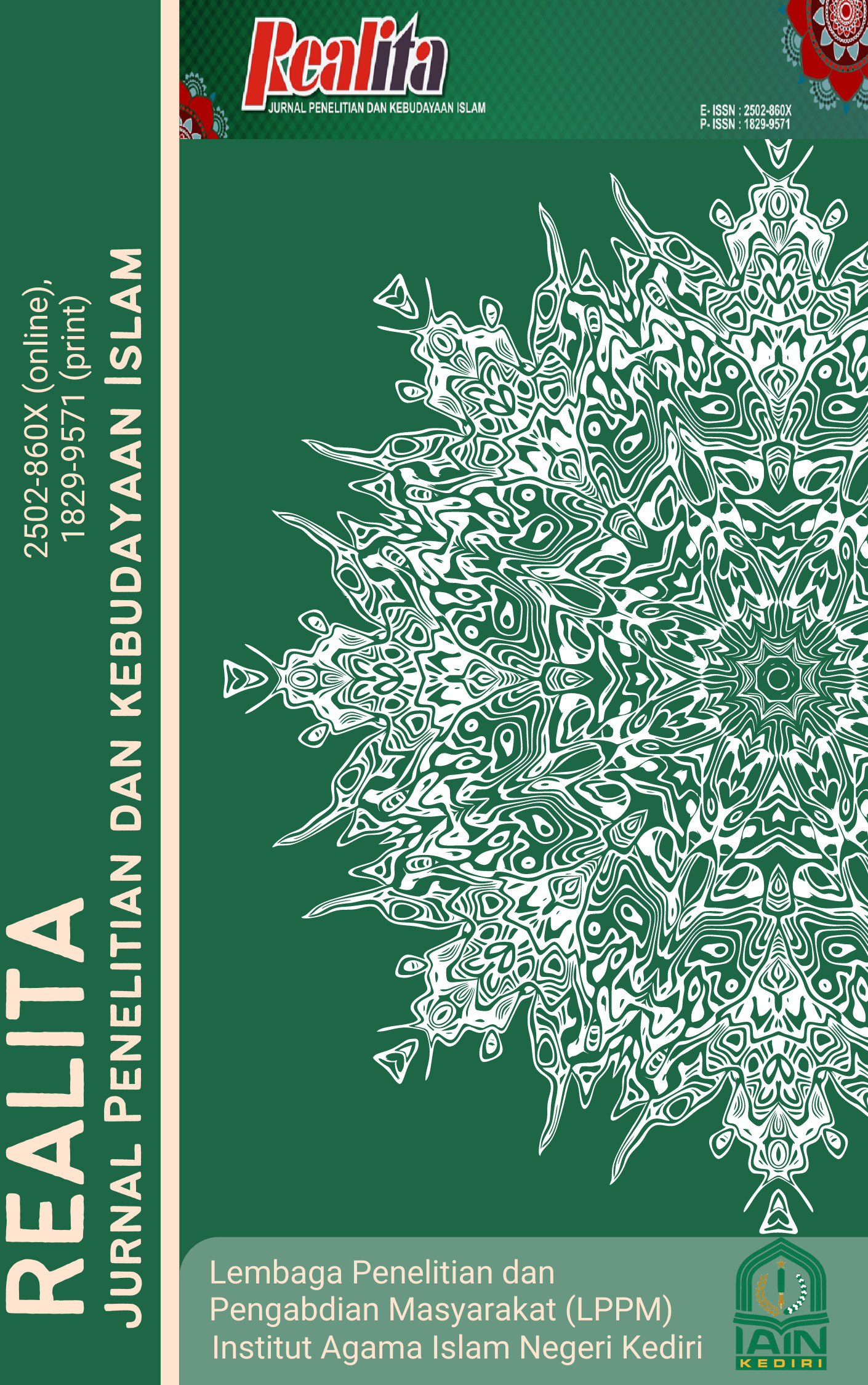 Downloads
How to Cite
Ikhwan, M., Azhar, Wahyudi, D., & Alfiyanto, A. (2023). Peran Pendidikan Agama Islam dalam Memperkuat Moderasi Beragama di Indonesia. Realita: Jurnal Penelitian Dan Kebudayaan Islam, 21(1), 1–15. https://doi.org/10.30762/realita.v21i1.148
License
Copyright (c) 2023 M. Ikhwan, Azhar, Dedi Wahyudi, Afif Alfiyanto
This work is licensed under a Creative Commons Attribution-ShareAlike 4.0 International License.