Implementasi Pembelajaran Bahasa Arab Pada Program Akselerasi Di MAN 2 Tulungagung
Keywords:
Implementation, Acceleration Programe
Abstract
Essentially intellectual level of students very heterogeneous between each other, there are uniquely gifted children who have strong interest in the various areas. Children have talented with such types require specific educational services in order to grow their potential so it can actualize themselves optimally. Without relevant education services, gifted children will be the group "wrong parenting children†who failed to provide a significant contribution to the progress of the nation. One form of educational services for students who have exceptional ability and intelligence is through the Acceleration Program (accelerated learning), kind of a program to accelerate the period of study for students who have high intelligence and are entitled to receive special attention in order to stimulate the development of achievements and talents. Therefore, in the learning process in madrasah is needed a proper implementation of the curriculum and can facilitate their potential, especially associated with the Arabic language curriculum as a pillar for education based on Islam. In accordance with the identification of problems arising at the location, this research is limited to the implementation of Arabic language learning in which related with the method and the strategy chosen by the teacher for teaching, the media and the tools needed and applied curriculum, so this study focused on identifying implementation learning Arabic and the problems faced by teachers in teaching Arabic at accelerated classes in MAN 2 Tulungagung. As defined formula, this research was designed using qualitative descriptive approach. This approach was chosen because research will produce descriptive data and then analyzed and interpreted to get a conclusion.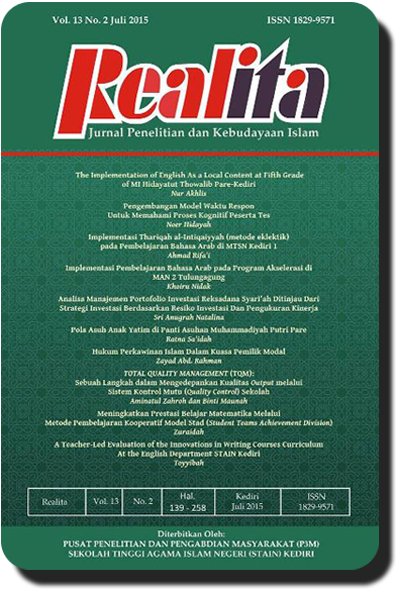 Downloads
How to Cite
Nidak, K. . (2015). Implementasi Pembelajaran Bahasa Arab Pada Program Akselerasi Di MAN 2 Tulungagung. Realita: Jurnal Penelitian Dan Kebudayaan Islam, 13(2), 173–186. https://doi.org/10.30762/realita.v13i2.61
License
Copyright (c) 2015 Khoiru Nidak
This work is licensed under a Creative Commons Attribution-ShareAlike 4.0 International License.