Pola Asuh Anak Yatim Di Panti Asuhan Muhammadiyah Putri Pare
Keywords:
Pola Asuh, Anak Yatim dan Panti Asuhan
Abstract
Family is a smallest social unit. The change number of the family member will influence the atmosphere of the family relationship which influence feeling, thought, and attitude of the members. The father's dead which makes children become orphan is a fact of life. It always makes family atmosphere become sad, and it causes bad situation for the children in which they lose love and good leader. Therefore, it is important to develop their potentials which will give benefits for their life and their family. Developing orphans' positive potentials can be done at home or in orphanage. This article aims at investigating orphans parenting in Muhammadiyah girl orphanage in Pare. The result shows that the orphans parenting in Muhammadiyah girl orphanage in Pare can be seen from the parenthood which has good attitude and character. She has motherly attitude, patient, discipline, and perceptive with the orphans' condition. The learning activity in the orphanage is 24 hours. The orphans learn religious knowledge, foreign language, and entrepreneurship. The parenting model used are that the parenthood educate the orphans as like her own children, and the relationship between the old and the young orphans is like own brother-sister. The supporting factors of the parenting in this orphanage are honest intention, community support, financial source, and facilities. Meanwhile, the problems faced are juvenile delinquency and insufficient facilities.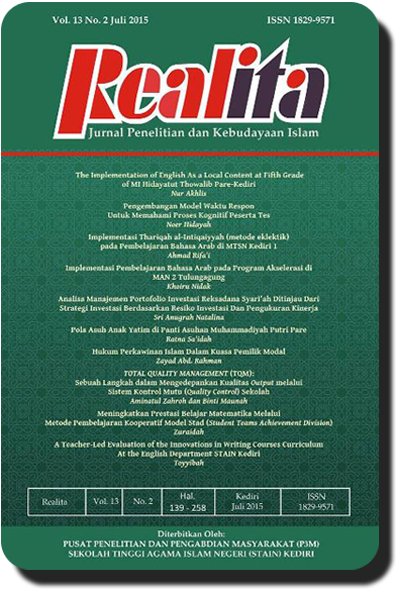 Downloads
How to Cite
Sa'idah, R. . (2015). Pola Asuh Anak Yatim Di Panti Asuhan Muhammadiyah Putri Pare. Realita: Jurnal Penelitian Dan Kebudayaan Islam, 13(2), 200–211. https://doi.org/10.30762/realita.v13i2.63
License
Copyright (c) 2015 Ratna Sa'idah
This work is licensed under a Creative Commons Attribution-ShareAlike 4.0 International License.