Kontrak Kerja Sama Usaha Di Indonesia Dalam Perspektif Hukum Islam
Keywords:
corporation contract, positive law, Islamic law, al-Qiyas al-Musawi
Abstract
The existence of varied form of corporation contract in Indonesia cannot be separated from the existence of corporation forms regulated in the constitution. The forms of corporation as like companies, firms, commanditer companies, PT, and cooperation which come from the constitution of colonial Netherland are surely influenced by the capitalist of western economic system. Meanwhile, in Islamic law there are mechanism of corporations in every sector, like al-Shirkah, al-Mudharabah, al-Muzaro'ah, and al-Musaqoh. This research discusses various mechanisms of corporation that are regulated in the constitution in Indonesia and in Islamic law, and the comparison between both of them. By using qualitative research design through library research in each law product, analyzing the content and comparative analysis, it can be concluded that the various forms of corporation in Indonesia can be made same with (al-Qiyas al-Musawi) the various forms of corporation in Islamic law. This similarity can be seen from the agreement, the goal, the right, the true effort, the important of the agreement, the authority of the people, and the separation aspect. However, there is exception in the law of obligation. The obligation law in the mechanism of the corporation contract cannot be true (haram) since it is not in line with al-Qur'an and the rules in the various forms of corporation contract in Islamic law.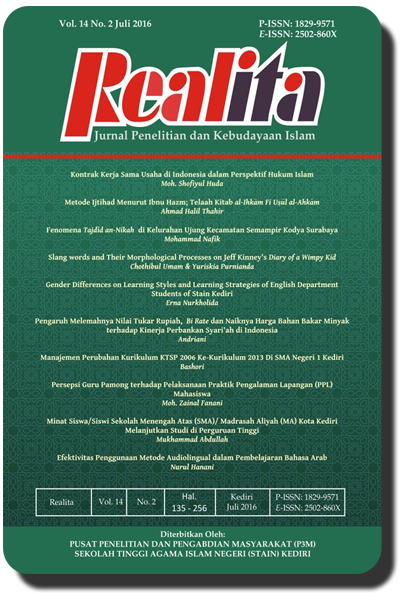 Downloads
How to Cite
Huda, M. S. . (2016). Kontrak Kerja Sama Usaha Di Indonesia Dalam Perspektif Hukum Islam. Realita: Jurnal Penelitian Dan Kebudayaan Islam, 14(2), 135–147. https://doi.org/10.30762/realita.v14i2.240
License
Copyright (c) 2016 Moh. Shofiyul Huda
This work is licensed under a Creative Commons Attribution-ShareAlike 4.0 International License.